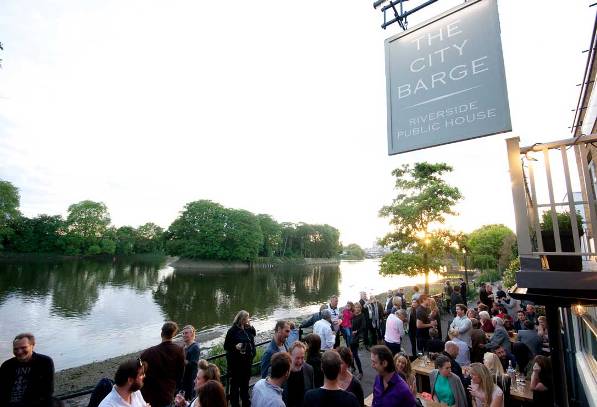 The City Barge is a historic 14th century public house with a wealth of history behind it and is situated on the Thames riverside, nestled in the picturesque area of Strand on the Green, Chiswick.
The City Barge re-opened in May 2014 after an extensive refurbishment. We serve a wide range of drinks, including 7 rotating hand pulled ales and an extensive wine list. You can choose to enjoy any of these in the stunning panelled dining room, traditional bar or simply sitting outside, by the river. We are fortunate to have extensive outside seating on both sides of the building, with tables and chairs on the river and a comfortable terrace amidst a herb garden on the far side of the building.
Internally, the building has retained much of the architectural detail and period fixtures and fittings, including original Victorian panelling and three open fires. A striking reclaimed nineteenth century bar provides a natural focal point for the upper level and some quirky touches including rare bird taxidermy, vintage games and a metre-long Thames Barge creating a relaxed atmosphere suitable for any occasion.